Its almost a year ago since I came back from my trip, 10 months cycling from the UK to Cape Town.
I didn't know when I first set wheel back on English terra firma what the future held, we rarely do. Coming back primarily for my sisters wedding I had visions of either cycling around the UK coastline for a few months or setting off directly toward China.
Little did I know, in that intervening time, I would be finding a new job, getting engaged and now I'm happlily married! The bike although it's not gone (I have had a few offers), has not been ridden, it's feeling a little neglected. However it will get out again later this year for a trip around Northern France when I ride with a friend visiting World War One graves and memorial sites. Unlike me my cycling partner for this trip doesn't like the idea of Wild Camping. I have been told that we must camp in a campsite each night. The benefit of this is the bike should be somewhat lighter without all the backup kit needed for a long tour such as spare tyres, chains, tools etc. Shouldn't need to carry up to 12 litres of water either!
Getting Married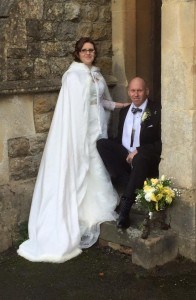 The main reason I was able to do the trip, splitting up from my girlfriend Belle whom I had worked at the same company with every day, came to my return drinks in Devizes. We'd been together 6 years prior to splitting up and the break was devastating for me, enough to p;ut me on my bike to Africa.. Seeing her again was fantastic and we saw a little more of each other. The idea of cycling off to China got shelved as not wishing to waste time, I asked her to marry me and she said yes!
Last December 29th we were married, having a fantastic day with our friends and family. The weather on the day's either side of the wedding were atrocious, but someone was smiling down on us for the big day. The sun came out and we couldn't have had a better day.
Getting back with Belle was the only reason that would be enough to stop me getting back on the bike and riding off on a long bike tour again. She said to keep the bike, if she gets annoyed with me I'm to cycle off to China for a month or two!
Cycling
"youll be so strong when you get back", "A years cycling will make you faster", these are things I was told before I left.
I didn't belive them and rightly so. After spending so long away I have struggled to get back into my road cycling. When I left I was fast, climbed hills like a stoat with his tale on fire. A year cycling at a low heart rate has taken it's toll, no longer does my heart want to beat at more than 150bpm for several hours, my muscles are now conditioned to go slow for 8 hours not fast for five.. I loved the pain of cycling hard when I left, now I am a wimp…
Another problem I have had is trying to get motivated to cycle the same roads. You take for granted when touring, every single day you are cycling, you are seeing something for the first time. A new town, new roads, new people, changing wildlife and scenery. I am now back in wiltshire trying to ride the roads I have ridden hundreds of times before. My mindset had changed and its taken a while.. er a year and I am getting back slowly. Enjoying again riding with friends and riding fast (still not as fast as I was) and enjoying the banter along the way. I now appreciate more the pain I used to people into by upping the pace on a ride, others are now doing it to me! It's a little surreal not being one of the fastest. The cycling club I was a big part of at its inception in the autumn of 2013 has grown and lots of new members. Several of the younger ones are quick, very quick! Anyone who knows me, knows I like a challenge, we are going to the Alps in July. My target is to get fast again and possibly ride quick enough to cause some of the young whipper snappers some old fashioned Lactic Acid induced suffering. I can dream!
Devizes Town Cycling Club
When it was clear I was staying I was approched by Devizes Town Cycling to take on the running of their website, it needed updating. When I left for Africa I had quickly knocked up a site for them, but they were still mainly using Facebook to organise things, not intuitive to many members, some of which refuse to use Facebook.
The overhaul is complete with only ongoing maintenance and small changes as and when the commitee want to update. If your thinking of joining a club and you live near Devizes, check them out!
Ongoing
I have a few things I want to do still relating to my trip:
Creating Google Earth Tours
Using Cyclemeter I had recorded GPS files for the trip, its wonderful to be able to load them into google earth and then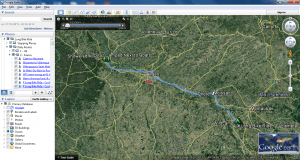 view the roads I cycled, it even shows the stops. Slowly I have been working through the files and adding in stop off points, camping spots, places I got water and other useful information to other tourers. The process helps remind me of the places I went through, the people I met and stayed with along the way. Eventually I hope to have the whole route updated as an interactive tour on Google earth, showing the many wonderful places and points of interest that I visited, stopped at and saw.
Writing Books
There are still plans to complete writing a book about my travels. I started writing when I got back, but plans of weddings and finding a job soon put paid to finishing the book. I was told in no uncertain terms by Belle that I would need to find a job before moving in! I got one within a couple of weeks. Not my ideal job, working in a factory, but it pays the bills and after 6 months will allow us to get a mortgage to move on to the next chapter.
Now the wedding is over I am starting to get back to the book, slowly.. There are so many wonderful moments to document, so many acts of random kindness along the way that I will never forget.
If your thinking of doing a similar journey, go for it! You won't regret it..
This Website
More work needs doing on this site at some point, making it more a reference for other touring cyclists. If you have been following my blog or came to this site lookign for information to do with riding in Africa and have some suggestions, get in touch.One of the ideas I am considering is enabling others to post. I met lots of cyclists along the way that wanted a blog but found maintaining it difficult, they just wanted to write and post.. Maybe there is a way.