According to Strava I tend to ride most of the time as they call it in their roster ride analysis, as a lone wolf. However I do ride with others occasionally and this ride was the first very long distance ride I'd done with someone else. In some riders terms I'm quite new to cycling, having only started in 2011, but I took to it like a duck to water, quickly relishing the multitude and extremes of challenges that cycling can offer.
Many, if not all of you, will have heard of and even may have ridden LEJOG, or Lands End to John O'Groats or its reverse John O'Groats to Lands End JOGLE.
It's a ride that I'd never done. I'd ridden a lot of things since getting into cycling in 2011. I'd ridden loads of Sportives, closed and non closed road. Ridden long distance Audax rides, riding at a velodrome and even some long distance touring starting with a couple of return jaunts to Paris, through Wales and eventually riding Devizes to Cape Town. And in between riding with friends and several clubs.
But riding Lejog was never really on my radar. A friend of mine Jay Hookins was looking for a new challenge this year, Jay has been riding since his teens but mainly concentrated on the competitive side of cycling, road racing and Time Trials which he's ridden at a level that most people would be jealous of. Together we decided to do LEJOG.. but with a twist. After an evening in a bar and with a few beers on board we decided we'd try and complete the end to end self supported in five days. The normal time taken to cycle a LEJOG is anywhere between 9-14 days, completing in 5 would mean riding, even with the shortest possible route, 172 miles a day.
Luckily both Jay and I have a very similar mentality when it comes to grinding out a hard day in the saddle and both of us were under no illusion that trying to ride a LEJOG in 5 days would need some resolve. Entering a dark place mentally on a long ride is what makes the end of the ride even more worthwhile. Contending with the extremes of heat we experienced, along with the almost continuous headwind and then torrential rain in Scotland on Day 4 made the ride even more memorable.
We arrived in Lands end on Saturday evening, after a false start with the car journey. I'd remembered after we'd driven 60 miles that I'd forgotten to pack my cycling shoes. Adding a 120 miles to our drive to Cornwall as we popped back to Devizes to pick them up. Jay handled this exceptionally well, probably much better than I would have, explaining that on the way to a Time Trial our friend Billy had done the same..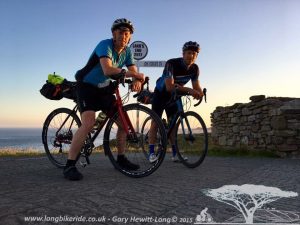 Day 1
Early on Sunday 18th June, Father's Day and after opening my cards and presents from the children, we set off from our hotel about 7 miles from Lands End for a slow ride to the start, the infamous Lands End sign. With no glimpse of any other riders which we were surprised about, with it being the longest weekend of the year, we set off. As we headed toward Penzance we did see a few making their way down.
The route wasn't all that inspiring, to complete the iconic End to End in the timescale we'd set meant following the A30 out of Cornwall. A horrible fast road, with very little room for bicycles. We had some respite though near Bodmin as there were several miles of contraflow roadworks as new road surface had been put down on the East bound carriageway. We'd seen the signs saying no cycling on the contraflow on the way down, but the new tarmac with zero traffic on it looked good.. so we took it. Workmen shouted twice, which we found hard to understand as there were no lorry's or heavy vehicles working on the Sunday, only a few men marking up the road.
First day ended in Bridgewater after a hot days riding. Jay and I had completed Leg 1 of 5 with a ride time 11 hours and 29 minutes for 173 miles.
You can see the ride details and route here: http://cyclemeter.com/9fb89c614db84b86/Cycle-20170618-0502
Day 2
Second day saw us up and early heading toward Bristol. The first 15 miles giving a false sense of security as it was pretty flat. Riding through Bristol in rush hour wasn't much fun but we soon found our way out the other side as the temperatures rose to the highest so far this summer at well over 30 degrees. Riding was tough going after day one coming out of hilly Cornwall. At one point riding through a village at around 2pm it felt like I had a puncture, for it to turn out that the tarmac was melting and we were sinking into the road! To avoid this, which was severely reducing our average speed we rode into the middle of the road which had been less worn and was less affected by the heat. As we neared the end of day two, a rider came up behind us and said something about trying harder! Mark Cleverly also a member of the club who has now moved up to the Manchester area had been tracking our live feed that I had been posting on the website www.longbikeride.co.uk and also on Facebook. Mark had guessed our route and knew we were finishing day two in Middlewich and rode out to see us. Mark was a welcome sight and Jay quipped it would be nice to talk to someone new after speaking to me for the last 48 hours.
We ended day two in Middlewich, just over 175 miles and 11 hours and 45 minutes ride time.
You can see the ride details and route here: http://cyclemeter.com/9fb89c614db84b86/Cycle-20170619-0529
Day 3
Day three would see us arrive in Scotland, hard to comprehend that after only three days of cycling we'd travelled from the bottom of England and into Scotland. The route took us through many Northern towns, many famous for their Rugby teams. Warrington,Wigan and Preston. The towns were a bit of a nightmare for cycling through, not being local and not knowing the best routes through, the towns took up a lot of ride time with starting and stopping, there appeared to be traffic lights everywhere.
The highlight of day 3 was after Kendal, leaving behind the built up areas and heading towards Shap. A nice climb up to Shap, the old route that was one of the only ways up North before the M6 was built. The pretty climb was a welcome change to what had been pretty dull scenery to that point. Coming off of Shap was a wonderful descent and a tailwind kicked in when we rode toward Carlisle.
We finished off Day 3 in Lockerbie in Scotland after passing through Gretna. A total of 171 miles in 11 hours and 21 minutes.
You can see the ride details and route here: http://cyclemeter.com/9fb89c614db84b86/Cycle-20170620-0514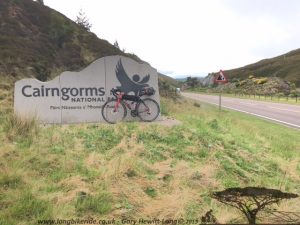 Day 4
The biggest day of the lot with about 176 miles planned on the route. Another start with a headwind, but the roads in southern Scotland were very quiet as everyone was on the motorway by the side of us. Conditions on the road were particularly poor and we were glad to have doubled up the bar tape a day previously at an impromptu bike shop stop, This took out the worst of the road buzz on the hands and arms. The road surface did nothing however to help sore bottoms.
As we headed North, we passed through the outskirts of Edinburgh and over the Forth Road Bridge. With the iconic and beautiful Forth Rail Bridge over to the right we headed over the cycle path on the road bridge whilst looking at the brand new bridge being built on the left. The ride after Perth was back onto a busy roads, the A9. A dual carriageway to begin with and with absolutely nowhere to ride safely. The rain also came in as we escaped our intended route and followed the sign for cycle route 77. On the cycle route our speed slowed further, but at least it was safer… For a bit. The route eventually took us down a track, not suited for road bikes, with lots of flint and mud by the side of a loch. Time for a rethink, we got back onto the A9. By the time we had rejoined the main road, much of the traffic had died down and the road wasn't half as bad to ride on. The rain continued to chuck it down and we rolled into Kingussie in the Cairngorms National park at gone 21:45, shattered, soaking wet and extremely hungry. Probably one of the hardest day's riding I have ever experienced.
Day 4 ended up being 12 hours and ten minutes in the saddle for 180 miles by the time we'd taken in our cycle path detour..
You can see the ride details and route here: http://cyclemeter.com/9fb89c614db84b86/Cycle-20170621-0521
Day 5
Yay, the final day and the shortest. Coming out of the Cairngorms National park on the way to Inverness Jay and I stopped at a roadside van to get our second breakfast. The friendly owner explained that they had missed all the rain the previous day. We had managed to hit all of it and had thunder and lightning at one point! The Scottish breakfast roll was just what we needed, a nice big white roll with lots of butter, thick bacon and a big Scottish Lorne sausage in it, delicious! A big descent into Inverness was a welcome rest to our legs after the mornings headwind climbing the Slochd pass.
As we hit the East coast of the highlands, the scenery got even better, sea views, lots of wild birds and even sea otters at one point. We even saw some highland cattle where they should be! Stopping off at a tea room about 30 miles from the end, the welcoming lady owner was explaining she was looking forward to the weather breaking, explaining they hadn't had rain yet and it was getting stuffy and it's too hot. Both Jay and I looked at each other. The weather had changed seriously to the start of the the ride, gone were the 34 degree heat to be replaced in the highlands with 12-13 degrees. And we were being told this was unbearably hot. Jay and I had just been saying how we should have packed Bib Tights!
We rolled into John O'Groats later than expected. We'd been a bit lax on the stop timings for the day so far, what with it being the last day. We arrived just in time to order last food orders at the Seaview Hotel still in our cycling kit, explaining that we needed to go an take a photo by the sign and go and get showered at our B&B Hamnavoe before dinner. The staff were very helpful and had big plates of food ready for us when we came back. Gordon the owner at our B&B even gave us a lift down, very hospitable.
Day 5 was done in 11 hours and 10 minutes riding and 163 miles. Total stoppage time was the most from each day at 4 hours.
You can see the ride details and route here: http://cyclemeter.com/9fb89c614db84b86/Cycle-20170622-0532


Overall the ride went exceptionally well, despite the challenging conditions, both Jay and I lost around 4kg in weight over 5 days, so with that in mind I just need to do another two LEJOGS to get back to my best cycling weight!
Time to start looking for another challenge and another Long Bike Ride 🙂
Gary Hewitt-Long