Preparation for a long bike ride, what injections do you need and what drugs should I take with me?
Vaccines
The vaccines and inoculations were not too difficult to work out, it just took a visit to the travel clinic. After explaining the the trip to the nurse, and that I didn't know exactly where I was going, that I could end up eventually anywhere, so we'd best work on the premise that I may need everything, she carefully talked me through the list of vaccines I may need. Luckily I didn't need all of them, as I'd travelled to China previously for work which meant I had already had some. After some discussion and returning home to research more in the internet, I came up with the list below that I would have and ones I decided against, the latter we will see if the decision was right in the future!
Hepatitis A – had this to go to China for work
Hepatitis B – (3)
Meningitis ACWY – (1)
Yellow Fever – without this one, travellers may be barred entry into some countries, yellow fever passport is issued with this injection to prove you had it.
Japanese Encephalitis (2)
Tetanus – if you've had 3 of these your covered for life. I think I've had about 5!
Rabies – (3) Rabipur. Nearly didn't do this one but if you do get Rabies the treatment is different and easier to get if you had the vaccine. This was cheaper on private prescription for Morrisons!
Typhoid (1)
I decided against having the Cholera vaccine as I plan on filtering and treating water where possible.
My final bill for injections ran into hundreds of pounds, but worth every penny if they work!
On the road – to take with me
Some of the medication I should take are obvious, like Paracetamol (Acetominophine) Imodium (stops Diahorroea), anti malarial tablets. However I knew I would need to take more just in case I have other problems. Reading other travellers blogs, several of them take general antibiotics in case they are needed so my list of drugs/creams etc has grown. Hopefully I won't need them all!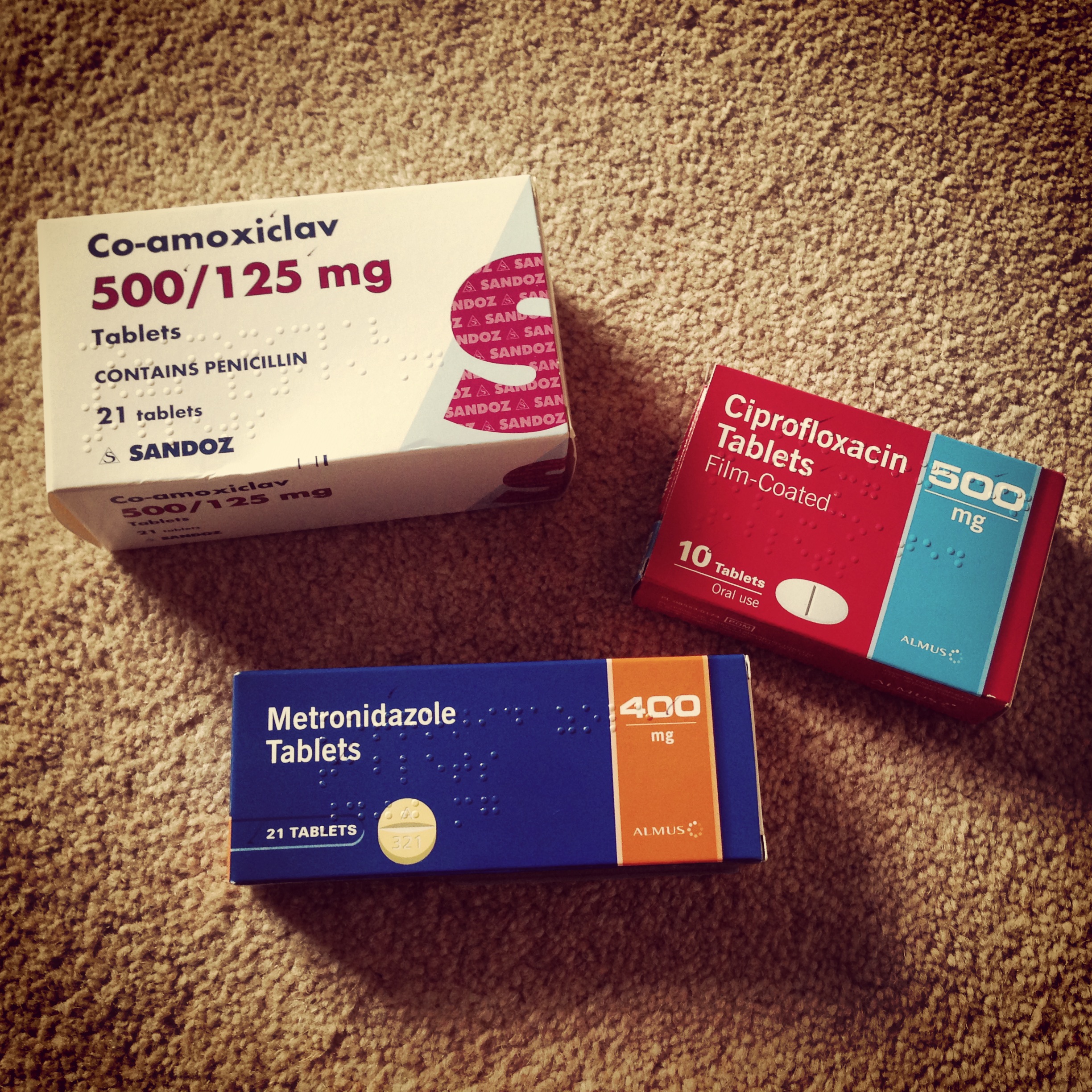 Paracetamol – Acetominophen
Ibuprofen
Aspirin
Antihistamine – Hay fever tablets or allergy
Antibiotics – Ciprofloxacin 500mg x 10 (diarrhoea)
Antibiotics – Co-Amoxiclav 500mg/125mg x 21 (chest/skin infections)
Antibiotics – Metranidazole 400mg x 21 (explosive diarrhoea)
Doxycycline x 280 (Anti-Malarial)
Sudocreme
Savlon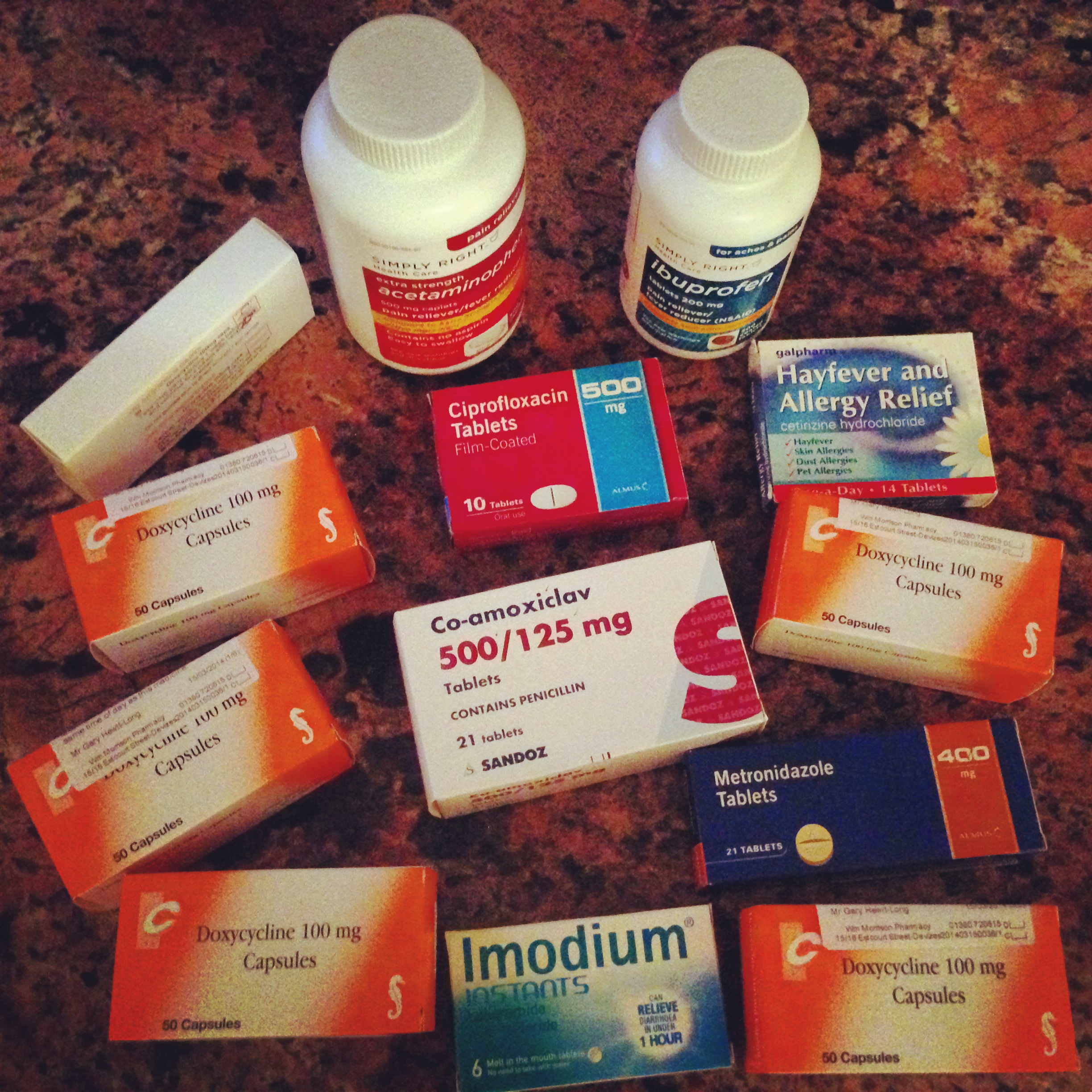 First Aid Kit
First aid kits, what do you need? I researched the sought the advice of a friend Brian at BOWMED in Devizes for further advice on travellers first aid kits. Research on the internet was harder than expected, it was difficult to find any kits or explanations as to why and what should be in a kit.
One of the items I was keen to take was my own syringes and needles should I need treatment. This would ensure if I need an injection that it will be done with a sterile needle. The kit that Brian sourced was specific for Travellers and already contained syringes and needles.
The kit (Complete Travellers First Aid Kit 8145) contains:
Contains a standard first aid kit as well as:
· Needles
· Syringes
Contents
1 x Large sterile dressing
1 x Low adherent dressing 5cm x 5cm
1 x Conforming bandage 7.5cm x 4.5m
1 x Crepe bandage 7.5cm x 4.5m
10 x Alcohol free wipes
1 x Gloves medium (pair)
1 x Mircroporous tape 1.25cm x 10m
20 x Wash proof plasters
1 x Resus – one way valve
1 x 3.5inch Scissors
2 x Wound closures 3mm x 7.5mm (pouch of 5)
1 x Wound Closures 6mm x 7.5mm (pouch of 3)
2 x Sterile syringe 2ml
1 x Cannula insyte 20g
2 x Sterile syringe 5ml
1 x Sterile syringe 10ml
1 x Sterile needle 21g
1 x Sterile needle 25g
1 x Valuset winged 21g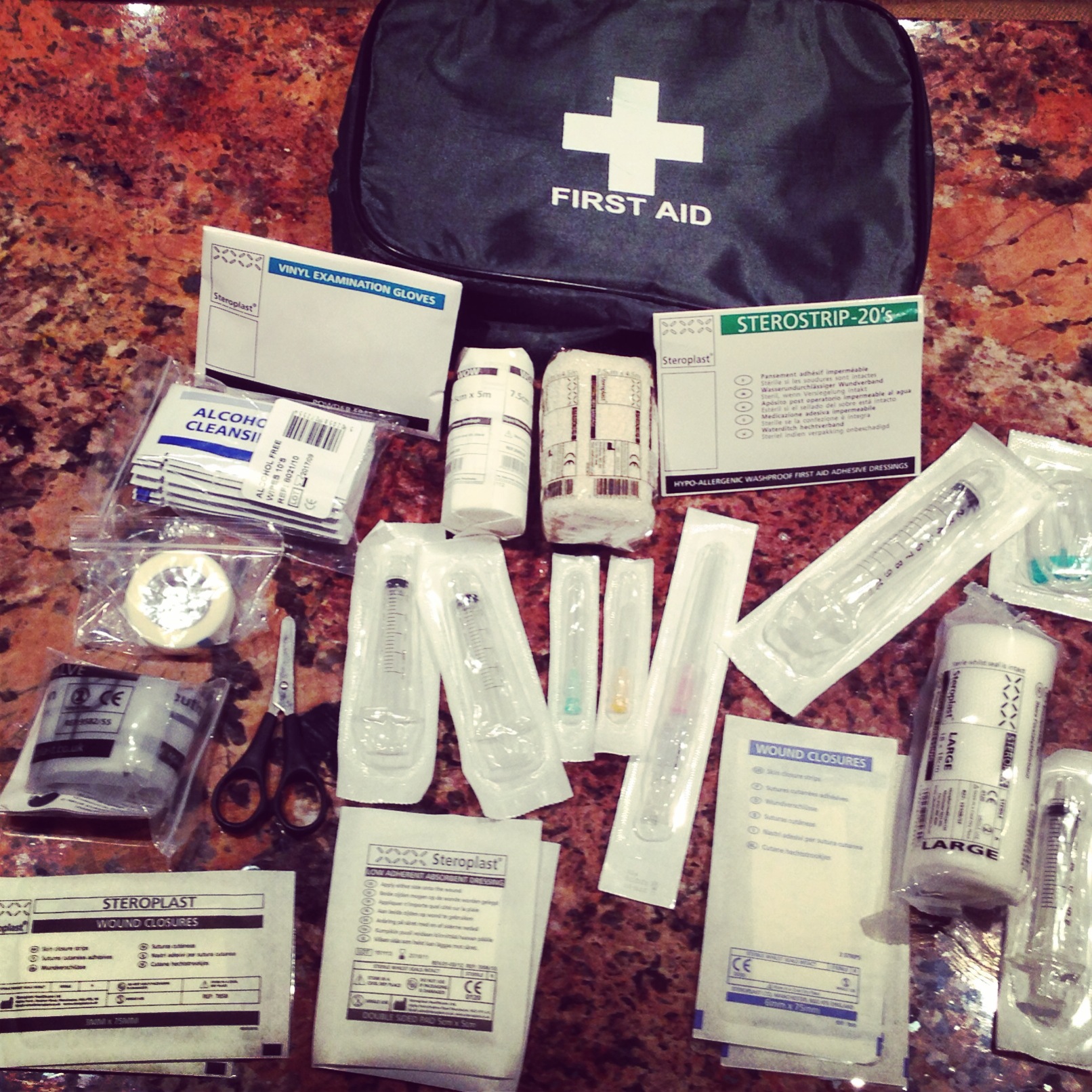 As you can see the kit is quite comprehensive, the only addition to this is plasters for everyday use. So there you have it, drugs and medicines, once that lots loaded, where does everything else go I ask?