What do you do and where do you start about getting a bike that would be suitable for a long bike ride or to go touring on?
It's bewildering, when you start to look into the multitude of options there are for choosing a suitable bike to go touring on, what frame material, what gears what tyres and that's all before you start on things like accessories and racks! The options are endless! To say it can get confusing is an understatement and for someone who can have a tendency to procrastinate, a blooming nightmare.
Searching on the internet as to what others have used only serves to add the the confusion as there are all sorts of bikes out there, reading books has the same effect and magazines that you find on shelves Lin the newsagents are mainly concerned with the latest, lightest fast bike for racing with or beating your mates on a Sunday to be the first in the queue at the cafe stop.
One thing that was easy was working out which material for the frame, really there's only one option when it comes to extended touring, Steel end of.. It's a better ride, durable and can be welded anywhere! Carbon, what do you do if that snaps in the middle of nowhere? Aluminium can't be repaired easily, neither can Titanium, so that only really leaves steel, as I haven't seen or heard of anyone touring on one of those bamboo bikes yet!
After much consideration and what seemed to be endless hours of research I decided to take a trip to test ride some bikes at Thorn cycles. Sean Conway a Thorn Mercury on his round the world trip which he wrote about in his book. It was equipped with a Rohloff Hub which has internal gears. Less wear and fingers crossed little maintenance compared to a normal dérailleur gear setup.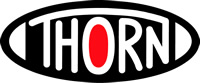 When I initially went down to see Thorn who were very helpful and let me test ride three bikes. After riding the Mercury (setup like a road bike) and the Raven (setup more like a hybrid or mountain bike) I still was very keen on the Mercury, the bike Sean Conway had used. By chance they were one person down on the sales team that day and after the second ride I was introduced to Dave one of the co owners who was helping out in sales as a result.
I explained to Dave what I wanted the bike for and he instantly ruled out the Mercury, saying "if you see a rough road you want to follow, it won't do it, you want the Nomad". No doubt, I wasn't sure, it was built like a tank! Dave said try it, so I did…. Mmm. Well that put the cat amongst the pigeons. I ought to point out that all of the bikes I tested were fitted with Rohloff hubs.
After spending half a day at Thorn, I left without a bike and some further consideration to do. What Dave had told me made sense, but I like a road bike setup.
The other frame I had in mind was a Surly Long Haul Trucker, these are well known for touring, and depending on who you speak to (Surly's Marketing Dept no doubt) there are more LHT's on Long or extended bike tours than any other frame! I'm not sure if that's the case but they do have a very good reputation for touring and when researching it popped up a lot, but then there doesn't seem to be a song and dance or the same amount of publicity over touring bikes as there is those plastic carbon contraptions.

My nearest Surly dealer who had test bikes was Cadence in Bath, owned by Jonny and Will, so after speaking to Jonny on the phone I arranged to ride on over for a test ride. The bike I was given to ride was a 56cm frame, I ride a 54cm frame normally, but after an hour or so if riding taking in the a Bath two tunnels, it definitely felt a good bike. Test riding touring bikes is a bit of an odd concept as you really need to test them as you will be riding them, I.e. fully loaded. Most people, me included ride them unladen, when their handling and characteristics change when you load them up. Despite the unladen ride, I was impressed, the one I rode was a disc trucker, which was available with 26″ wheels, where spares for 26″ wheels are a lot easier to come by globally and in remote places where 700c are pretty much non existent outside of westernised countries.
So I left Cadence still not knowing what to do, I liked both the Nomad and the Surly, so I put off the decision.
As time was moving on, I had to make a decision, I got back in touch with Thorn. I discussed set ups on the Nomad, but found that if I wanted Drop bars, this meant I couldn't have the mechanical discs I wanted. If I had the mechanical discs, then for some bizarre reason I was told I couldn't have steel racks.
As I was going to hand over a big chunk of money on the bike, I wasn't happy or comfortable to be compromising on the build, so I got back in touch with Jonny at Cadence, went for a chat on build on the surly, with drop bars and steel racks!
After an hour chatting with Jonny, it was clear they wanted to listen and advise only where they thought my spec could be improved and then went on to explain why, but still giving me the option to go with my choice of components.
I gave the go ahead for the build and Cadence were so efficient, they got all the parts in within a week and the bike was built up a few days later!
Build Started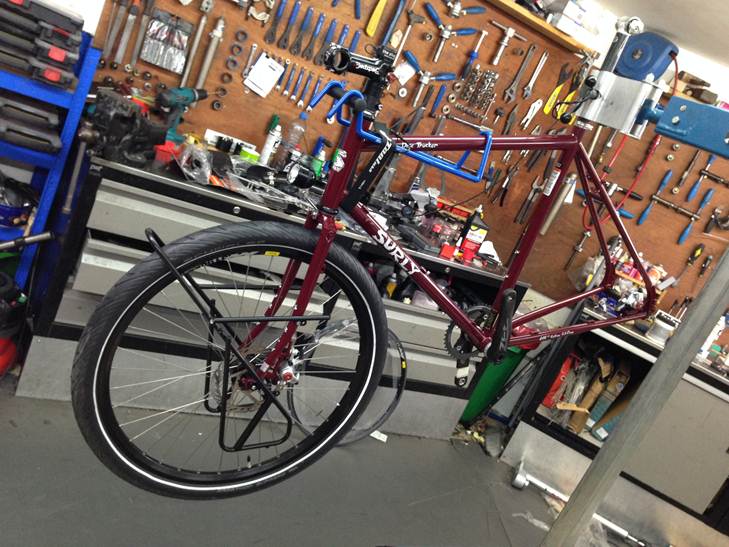 In the end I went for:
| | | |
| --- | --- | --- |
| Component | Code | Description |
| Frame | FR2 | Surly Disc Trucker Frameset – Maroon 54cm 26″ |
| Rear Hub | RH1 | Rohloff Retrofit Rohloff Speedhub 500/14 CC 14 Speed Gear Hub 36 Hole |
| Wheel Rims | RIM1 | Mavic XM319 Disc MTB Rim 2014 |
| Front Hub | FH1 | Schmidt SON 28 6-Bolt Disc Dynamo Front Hub – Silver |
| USB | USB1 | Tout Terrain The Plug III Hub Dynamo Powered Charging Device |
| Headset | HS2 | Chris King Headset |
| Handlebar | HB1 | Deda Zero Handlebar |
| Stem | ST1 | Deda Zero Stem |
| Bar Tape | BT1 | Deda Elementi Bar Tape |
| Bottom Bracket | BB1 | Shimano Hollowtech II Bottom Bracket Cup Set |
| Crank Set | CS2 | Shimano Zee Alloy Crankset 170mm with 40T hardened alloy chainring |
| Chain | CN1 | KMC X1 Hub Chain |
| Disc Brakes | DB1 | Avid BB7 Mechanical Disc Brake 160mm rotor |
| Brake Levers | BL1 | Tektro Brake Levers |
| Seat Post | SP1 | BBB Black Seat Post |
| Saddle | SAD3 | Charge Spoon Saddle |
| Mudguards | MG1 | SKS Chromoplastic 26 Inch Mudguards |
| Bottle Cage | BC1 | Stainless Steel Bottle Cages x 3 |
| Lo Rider | LR1 | Tubus Tara Lowrider Rack for 26″ (559) & 700c (622) Wheels |
| Rear Pannier | RP1 | Tubus Logo Expedition Rear Rack for 26″ (559) & 700c (622) Wheels – Black |
| Headlight | HL1 | Schmidt Edelux High Power LED Headlight – Black |
| Tyres | TY1 | Schwalbe Marathon Dureme – 26 x 2.0 Inch (50-559) |
| Accessory Bar | AB1 | Thorn Accessory Bar T Shaped 55 mm Extension – 0 Deg (Mounted Rohloff Gear Changer on this) |
Part Built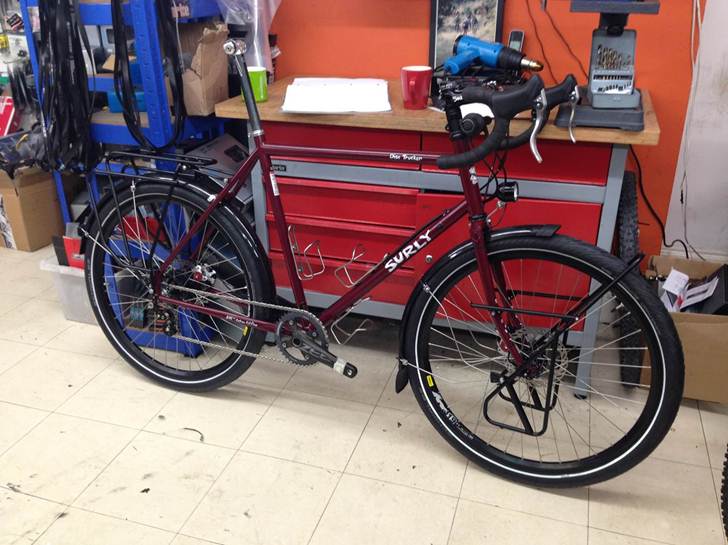 Picking up the bike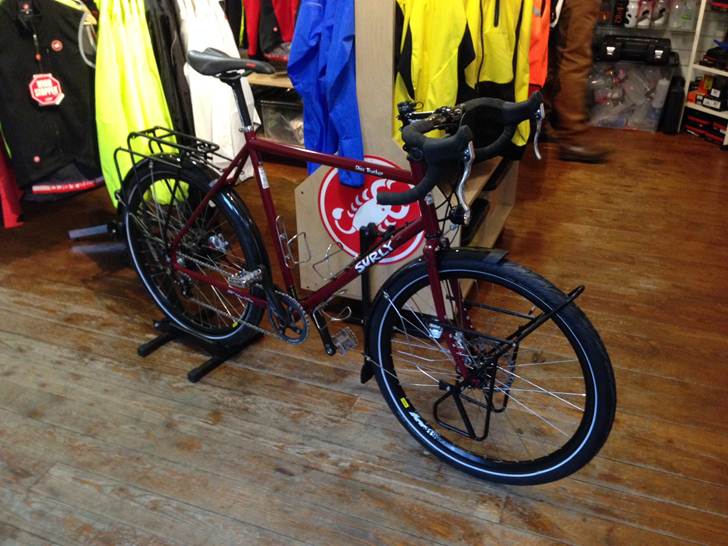 I have ridden the bike for over 1,000 miles before taking it in for its first service. Overall I have been happy with the build, any problems I have to date Cadence have bent over backwards to help me sort them out. If I get any problems on the trip, I will post an update.