4th May 2014
The Ride
Goodbye Ride & Drinks – What to wear, this time of year is always difficult, you're going on a big ride and its cold to start with. Leg warmers? Arm warmers? Base layers? Thick gloves? You know that no matter what you wear, it'll be wrong once you get going and then you will be forced to carry the extra kit around the route. Why am I worrying about carrying extra kit for, I am about to go on a long ride and will be carrying a mountain of extra kit!
At very late notice I had arranged a bike ride to say goodbye and at even later notice when I was reminded by a friend, some drinks in the evening in a local pub, The Southgate Inn in Devizes. I had already had an idea about a going away ride, that Id like to do the route in a definable shape. After getting involved with drawing routes out to look like something the previous year it's quite easy to do with the tools at www.ridewithgps.com.
So I set up a route, unfortunately the only way to get a shape that resembled what I was looking for, the outline of Africa which put the route at 115 miles plus.. er not conducive to getting a lot of participants! Why do I have these ideas and then once I have them, force myself to commit!
The Proposed Route.. Can you guess what it is yet..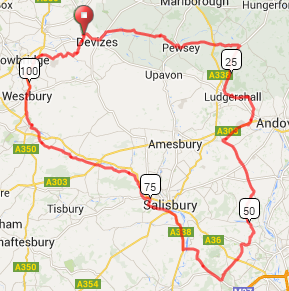 With the route posted on some of the Facebook cycling groups, club pages and sent out to friends with only short notice and it coinciding with a bank holiday weekend, I was half expecting to be riding this on my own. I arrived at the starting point and was pleased to see some friendly smiling faces there to accompany me, John Berry who'd ridden to my house, Steve Wallis, Paddy Little and Mark Cleverly.
Paddy made a request that we modify the route slightly so that we took in Urchfont as he had rushed out of the door to arrive before the start time and had forgotten his water bottles, so off we went. I had said that the ride would be at a reasonable pace and we set off out of town at a nice 19 mph. John soon got to the front and before we knew it we were tanking along at 25!
A quick stop at Urchfont for Paddy's water and off we set again, getting back on track at All Cannings. The ride went well and was kept at a fast pace by the locomotive that is John Berry, we soon entered Ludgershall where Paddy and Mark wished me luck, I thanked them for coming and they peeled off as they were not intending to do the whole route.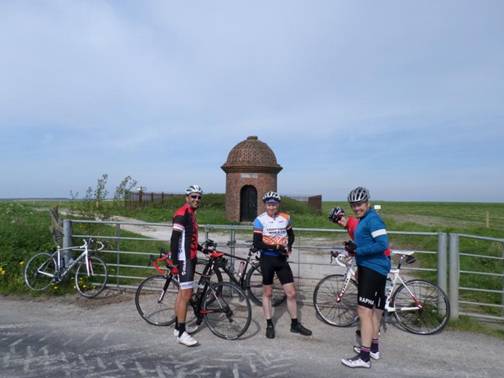 Due to my poor planning, I hadn't planned in any stops for water or refueling, I guessed that we'd come across suitable places on the way, which we did… sort of. We got to almost 50 miles (just past Somalia and roughly in line with Zanzibar), and we peeled off route toward a pub sign for the Plough in Grately. We had made good time, it was getting to about 11:30 and we thought time for food and a drink.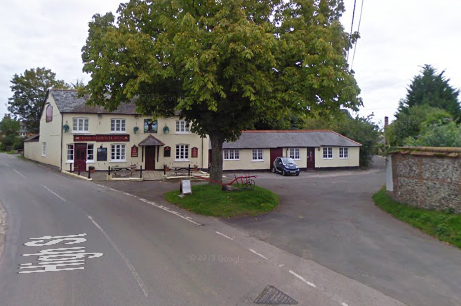 One problem, the pub didn't open until midday, so we turned around and went back to the village shop/post office. The owner was interested in our ride after seeing my Chippenham Wheelers Gilet and we bought various items of food and I even got a coffee and an Ice Cream.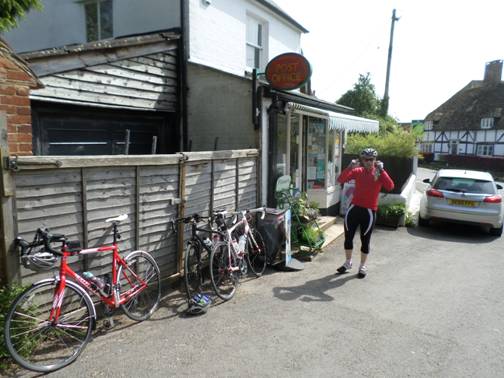 Back on the road and we carried on for another few miles and we decided that now it was almost one o'clock we ought to look for somewhere to eat properly so another pub was found, this time on the route, the Star just past East Tytherley where a cooked lunch and liquid refreshment were well received by all three of us.
After lunch, with an over full stomach we steadily set off for the remainder of the ride which took us through the New Forest and then headed back north west toward home.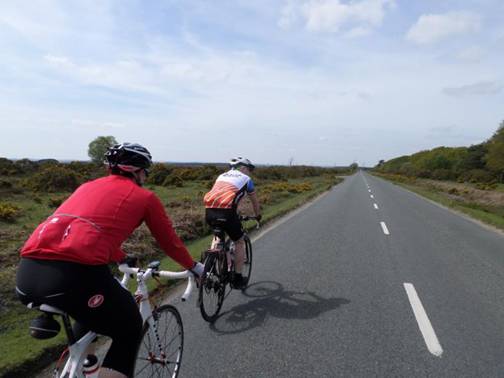 The Drinks
I'd arranged to have a few drinks with some friends in Devizes at the Southgate inn, arriving there at about 8:00pm. As usual I was one of the last to arrive, several people were there already commenting on how I was the last to arrive, Velominati rule about being on time completely ignored.
It was really good to see several faces who made it over from Chippenham Wheelers to have a drink.
One of my faults or oversights is that I regularly don't take photos when I should. I always think after the event, "oh a photo of ??? would have been nice". The same happened here, everyone was there to see me off with a drink or two and I only thought about photos around midnight, when several people had already left, but there were some nice ones that we didn't look too inebriated in.
I had some very interesting conversations, fuelled by excess alcohol, the most memorable being with Jay and Jimmy, who assured me that I wouldn't get back to the UK without having been buggered along the way, makes me wish I was a hedgehog queue the "hedgehog song" by Nanny Ogg…
Aaron, Andy and Myself
Ady, Aaron, Me and Dave
To round the evening off, the landlord and landlady gave out free shots followed by Sausages to wash down the beer and shots, a fantastic day and night, thank you to all those who made it and those who couldn't and sent me some really great messages.