Last night I stayed in a Kyriad hotel which is part of the same group that owns the campanile hotels. I'd looked at the campanile in Evreux and Trip advisor had poor reviews. To be fair Campaniles are similar to Travelodges at home. Basic, and no matter which one you stay in they don't vary that match other than some are more tired than others. On the other hand Kyriad had great reviews and was only a few euros more. So with the reviews I opted for that one.
Mmm… The reception was nice…
Today started a little later than I'd anticipated. I hit snooze on the alarm clock, or thought I had, but had turned off the alarm. Today's ride was expected to be about 80 miles. With the ferry not due to leave until 23:00 this meant I had plenty of time to get to the port.
Before I set off I plastered myself in suntan lotion to avoid a repeat of yesterday's sunburn. I'd put so much on it took half an hour for it to soak on and for me not to look like I'd been white washed.It also took me an age at the end of the ride to remove the grime with wet wipes.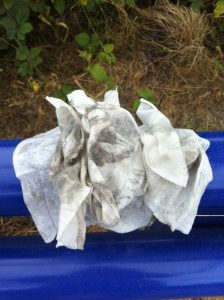 Can't remember if I mentioned in yesterday's entry, once again near the end of the route I went wrong again, that's every day now without fail. Today I was determined for this not to happen again, so I hatched a cunning plan (baldric). After my stop for Lunch in Lisieux, instead of following the planned route, I cut north on the D45 and hooked up with the D675 which I came out of Ouistreham on Saturday. It worked, I got back to the port no problems and then got there just after 16:30. As boarding doesn't start until 22:00 it left me plenty of time to look round Ouistreham. An hour and a half later, with that done I went to McDonald's, to kill more time, 2nd Mc'd in one day.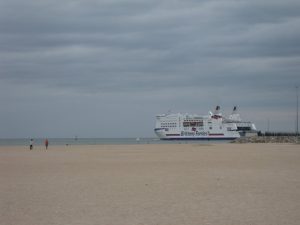 I'm Currently waiting in the port for boarding. The French girl I spoke to at 16:30 said I couldn't check in until 21:30. I managed to check in at 20:00! Perhaps it's because I asked her in English rather than French. No Anglo French love lost there!
Route: Leg 5 – Evreux to Ouistreham
Activity: Cycle
Google Maps URL:
Today's route here
Started: 24 Aug 2012 09:07:52
Ride Time: 5:46:07
Stopped Time: 1:53:28
Distance: 79.13 miles
Average Speed: 13.72 mph
Fastest Speed: 49.39 mph
Ascent: 1630 feet
Descent: 1867 feet
Calories: 2360
Average Heart Rate: 109 bpm
Maximum Heart Rate: 145 bpm