The last week I have been on a Workaway placement in Olargues in Southern France.
I came across the site when reading another cycle touring blog and from what they had written it seemed a very good idea. Simply put,you do some work for free board and lodging which will allow you to explore the area and get to meet some local people. This seems like a win/win situation.
Registration to be a workawayer costs 22 euros for two years and I guessed even if I tried it only once it would be worth a shot.
After signing up last minute and quickly writing a brief profile on the day I left home to cycle to Portsmouth, I received a message from host's Elke and Norbert in Olargues within minutes!
After quickly looking on the map and looking at Elke and Norberts profile on the Workaway website, I decided, yes I should like to go there. It seemed a long way off of my originally intended route. The detour in total was around 400 miles, but it meant instead of cycling through Bilbao, Santander and then south across Spain, that I crossed France to the Med and followed the coast down through Spain. This seems like a nice option, I like the sea!
I arrived late on Saturday 24th and was welcomed into the home straight away by both Elke and Norbert, had a quick shower and sat down to eat dinner with them and one of Norberts son's. The next day being a Sunday, there was no work to do.
We went to a local flea market and then took a quick look at one of the local Gorges, the area is outstandingly beautiful.
Flea Market
Later on the Evening Norbert and I went and picked cherries from further up the hill, cherries appeared several times throughout the week in pies, tarts, cakes and just generally stopping to gorge on them by the side of the road.
Norbert and I by one of the Pools/Gorges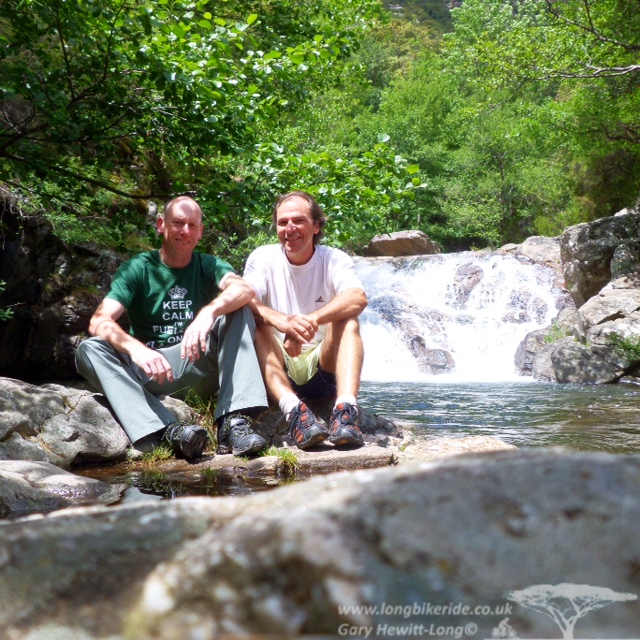 The working arrangements are agreed between the workawayer and the hosts, either beforehand or when you arrive. As I was not bothered as to what work I was going to be doing, I didn't ask and was happy to do whatever. We decided that it would be best to work a whole day on the Monday and then have the Thursday off.
Monday I was put to work painting one of the rooms in the house, whilst ordinarily I do not like decorating, however I enjoyed doing the painting, it was nice to do something that required little thought.
Tuesday was more painting in the Morning and in the afternoon was the ride up Col de Fontroide which I mentioned in my previous post. And in the evening Table Tennis with Norbert.
Wednesday, Norbert and I had discussed a website for a holiday let, so I started to work on that (http://gardeloup.royalwebhosting.net). After we rode to a local gorge L'Heric with Elke where we went for a walk up into the mountains with some food for a picnic.
The sites and views were again outstanding.
Outstanding views from the Mountains – Gorilla with Bad Teeth?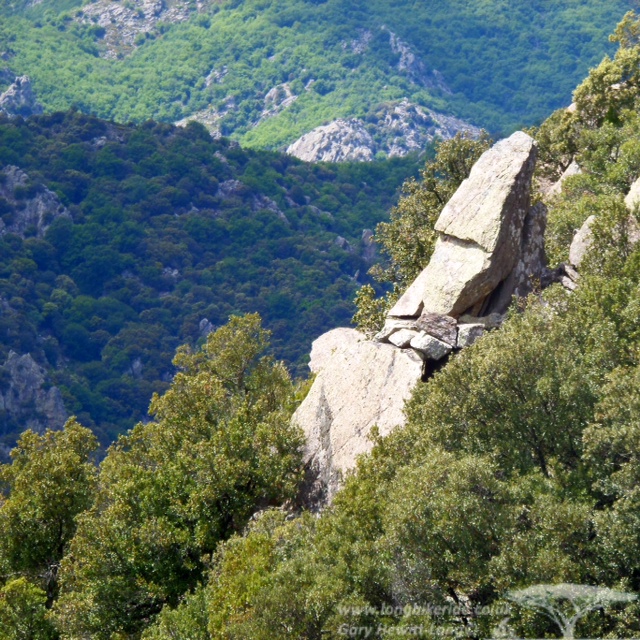 The trails in France are well worked out and clearly marked.
Marks in Yellow and Red so as not to get Lost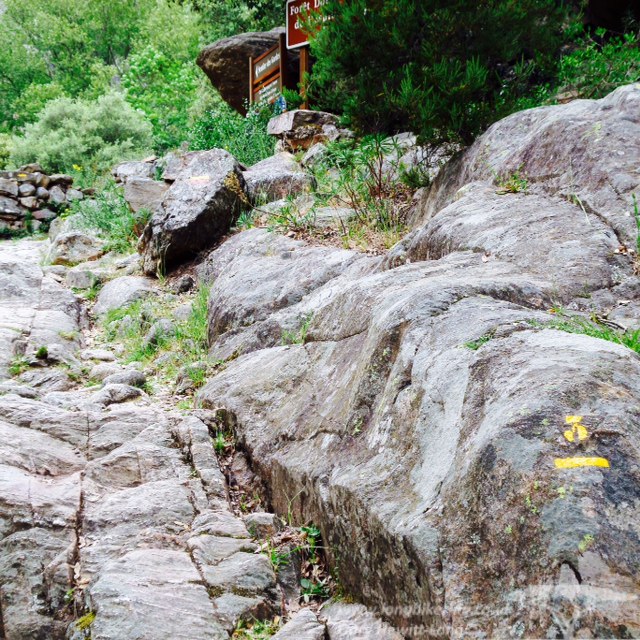 they also took us through some very old villages.
Not so Wheelchair Friendly Access Village but very Beautiful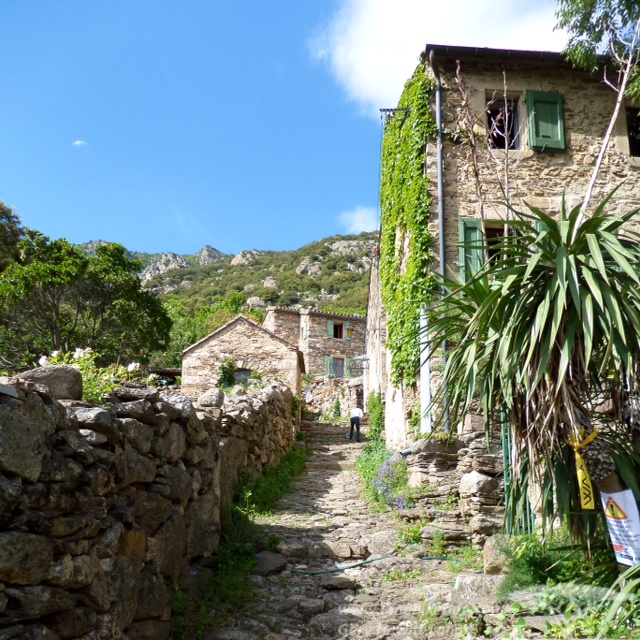 Thursday, a little more website work and then a visit to another flea market in another Village, Ceps. This time we had the company of a friend of Elke and Norbert's, Sabrina who was very friendly and easy and interesting to talk to. Unfortunately a shame, only time to meet once before cycling on further. The ride to Ceps was good and not very hilly bit we did cycle/hike 25 miles (a lot if you are not a regular cyclist), we followed this with another shorter walk into the hills, where we saw lots if frogs in small pools.
Where we stopped to eat.
Resting and Taking in the Views
And take some photos.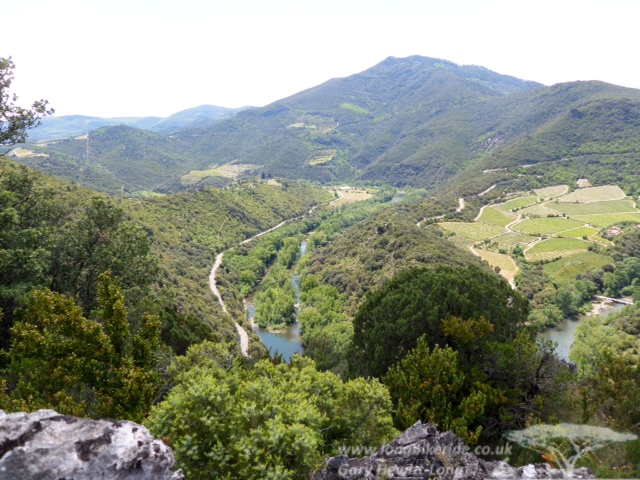 Friday and Saturday I spent some more time working on the website and also doing some more research into my intended route through Spain and options of ferries into Morocco.
Workaway, in a nutshell, fantastic idea! But I guess I may have been a little spoilt with my first experience being with Elke, Norbert and family, they have been genuinely wonderful to stay with and have made the experience another highlight of my trip so far ensuring I got to see the local area with fantastic company.
Norbert, No more Wine.. I think I shall have the next month alcohol free 🙂