Really, that many?  Time has flown since departing the UK. I have now cycled in 13 different countries, 1 British Territory, Gibraltar and crossed 16 borders since the middle of May. Looking forward there are not that many more to go!
After seeing an abundance of wildlife near Mfuwe, Zambia my next target location was Lusaka. It's nice to have the freedom to change your plans as and when you feel, it's also great to have set points (that you may wish to change along the way) to head toward. It sets a target a point to focus toward. In Lusaka I was due to meet up with Mike a friend of a friend from back home in the UK.
Before heading to the Zambian capital, I first headed back to Mama Rulas camp site for a night. Travelling back up from the Luangwa river again a change in elevation of almost 2,000 feet, Mfuwe by the Luangwa river being much lower and therefore hotter.
The stop at the camp site coincided with the England South Africa Rugby match resulting in a good evening, plenty of beer and banter with the staff, locals and overlanders some of whom were South African.
A little groggy in the morning, packing up the tent and loading the bike, I headed back into town for cash. My Credit Card a Halifax Clarity card is a Mastercard which the local Stanbic bank in Zambia (Standard Bank in Malawi) accepts. Pre-loading your account with cash allows free cash withdrawals and it has a reasonable exchange rate. Currently it's a good card for travelling with provided you can find ATM's that take Mastercard. Barclays tried to charge the equivalent of £3 per transaction. Bankers!
My route from Chipata is simple, no need to even buy a map, one road toward Lusaka the T4 known as the Great East Road then onto Livingstone via the T1. Roadworks and resurfacing are abundant en route. Lots of diversions onto dust roads running parallel with the carriageway. On a bicycle I'm free to pick the best option, riding the dusty track or try and ride on the roadworks in an attempt to keep myself out of the choking clouds thrown up by the vehicles driving by at high speed.
The surface is bad in places and hampers progress considerably; my preference still being a nice tarmac road surface.
Luckily the roadworks are sporadic, sections several kilometres long ending before restarting. Riding on the sections that are under construction are not that enjoyable, progress is slowed considerably as surfaces can be poor, cars and trucks taking the many diversions, trailing big clouds of dirt and dust, making me filthy.
Along the T4 camp sites or lodges are few and far between, I was prepared for this and looking forward to some more wild camping, much easier in Zambia with its lower population density than Malawi.
Other than the aforementioned road works and a few hills, the cycling is relatively easy, passing through villages with mud walled huts with thatched roofs. Zambian villages distinct with their own style of thatching and construction.
As well as Wild Camping, I rested at other places, a school in Mchimazi overnight, I was made welcome by the Head teacher, staff and pupils. Rather than allow me to set my tent up they were keen for me to use one of the classrooms. Filled with rows of desks, none of them with initials scraped into them as I recall the ones I sat at in the UK had. The tin covered classroom an ideal spot to stop that night as it rained heavily from midnight right through until the morning. At times quite heavy and the metallic banging of large raindrops on the tin roof rousing me me despite wearing earplugs.
Morning came and after breakfast pupils made their way to school, congregating just outside the classroom and peering in at the Muzungu, white person. One of the pupils kindly brought me water to wash with and the head teacher explained that when it rains school starts a little later as the children understandably don't like to walk in the rain so much.
It was still raining, more a drizzle by the time I had actually rolled up the mat, stowed the cooking equipment and had a wash. As I set off the drizzle felt refreshing and pleasant, petering out later but staying cloudy made for ideal cycling conditions.
Reasonably level with a few hills to start with but slowly descending to cross the Luangwa River, there is a small town, an ideal break for supplies and lunch from a roadside food stall after climbing out of the river valley.
Climbing away from the river the route changes to rolling hills, villages become fewer nice forests and woodland appear by the side of the road. Baboons occasionally loping across the road in the distance, ever alert for traffic scanning the road as they cross.
The lack of villages drawing closer to dusk became a concern; I'd failed to fill my water bottles so reluctantly I flagged down a lorry by making a drinking motion from a bottle. The huge left hand drive American style lorry pulled up some 75 yards ahead of me and out jumped a couple of guys who were only too pleased to fill my bottles from the large containers in their cab. On asking they both confirmed the next village with a water pump was some distance away.
Within 5 miles I had passed more water pumps, negating the need to have requested water, but it's better to be safe than sorry. Passing through one area I was able to re-stock on doughnuts sold by the roadside. At 50 Ngwee each (100 Ngwee to 1 Kwacha – about 5p) and without filling or sugar, these cheap food items are high in carbs and tasty if eaten with a coke or soda.
Prepared to camp out in the bush, I found myself riding through a populated area. Spying some grass near a Jehovah witness Kingdom Hall I pulled off of the road and asked permission to camp and proceeded to make camp and cook an evening meal before nightfall as the temperatures dropped to a comfortable level.
More reminders litter the roads as in previous posts that the travel can be dangerous, rounding one corner a lorry missing its cab came into view, the road littered with debris from a horrendous crash.
Other than the baboons I hadn't seen a great deal of wildlife during my ride toward the capital and something missing on the trip so far is spotting snakes. The only ones I tend to see are dead having fallen victim to the roads.
After leaving Chipata I had received an email via my websites contact form from a fellow cyclist heading the opposite way. Anselm from Germany was hoping to cross paths en-route. I was stopped at a water pump, last stop of the day before finding somewhere to put the tent when Anselm came by having almost missed me. Alerted by a local lady pointing me out as he rode by we chatted and decided to find somewhere to camp together that night to swap details about or respective routes ahead. Flipping a coin to decide which direction we should head, one of us having to double back on the road we had already travelled, I was lucky.
Coming into the capital city, Lusaka there were some interesting signs.
News of more cyclists filtered through. A VW camper pulled me over asking if I needed water, the driver Uwe telling me about a Canadian cyclist Dave Conroy stopping at Gerritz German restaurant. I arranged by email to meet up when I arrived. After a brief discussin it transpired I already knew of him, having read about some of his travels on Peter Gostelow's Big Africa Cycle blog (http://petergostelow.com/thebigafricacycle/) , one of my inspirations for doing the trip.
Dave and I swapped stories and tips, tips flowing in one direction from Dave as he'd spent 5 years travelling by bike so far after having given up his job in IT (http://www.tiredofit.ca/). Daves website is here.
Cadence  bike shop in Bath UK who I had bought my bike from and who have been a great help throughout the trip sending me spare spokes along the way had sent me an email to tell me of another cyclist also having purchased a Surly Long Haul Trucker on his way up from Cape Town. Unfortunately due to timing we missed each other.
Mike the contact I'd been put in touch with previously and who had been a great source of local knowledge met me at the restaurant and putting my bike in his truck we made our way back to his house to meet the rest of the family, Jill, Mikes wife, sons Ronan and Matthew and Jill's parents Roy and Alison.
During this long bike ride, I've now submitted over 30 blog posts, many being of varying consistency in styles and quality of writing, time strapped it's hard to spend long enough on an entry to be entirely happy with it, there's a trade off between writing and cycling and exploring. The quality of my writing is something I'd like to improve and whilst staying at Mike and Jill's it's been possible to take advantage of the skills of those around me to help improve a little, Jill is an English teacher and her parents are both writers publishing articles on a regular basis to newspapers and other publications. Roy kindly offered to appraise my work and set me some homework, write two articles of no more than 500 words on the fishing trip that Mike and I took. I ran out of words very quickly and still hadn't conveyed all that I wanted, excluding the out of fishing activities & Mikes capture of the biggest fish of the trip at over 5kg!
I've placed one of the articles below just for fun to describe most of the fishing side of things!
[Start of homework] 2014-11-26 – Fishing Article – Blog Entry
Last weekend I was very fortunate to go fishing during a break from cycling, a hobby I've had since the age of 6. My childhood memories filled with times spent by the canal where I grew up at the bottom of the famous Caen Hill flight of locks near Devizes, Wiltshire.
Temperatures at the Zambia and Zimbabwe border region of the Kafue and Zambezi rivers, South of Lusaka capital of Zambia easily exceeding 40°C at times. A huge contrast to the late November weather in the UK. No need for woolly hats or gloves, T-shirt, shorts and lots of sun cream being the apparel for fishing here in Africa.
We were targeting the African Tiger Fish, with 16 large razor sharp teeth, a ferocious predator renowned for its fight. Our policy was catch and release, returning them unharmed if possible back to the river.
Our first trip was mid afternoon, bright sunshine, no clouds in sight and still very hot. We cruised at high speed, warm wind in our faces in a powerful white boat to the chosen spot between a grassy island and the Zimbabwe bank side of the river.
As well as the sport I'm treated to a safari by boat, the verdant banks of the river are teeming with wildlife. We see elephant grazing at the edge, hippos wallowing on sand banks and many colourful birds.
This slideshow requires JavaScript.
The Zambezi's fast flowing even in dry season and it takes us down the channel, drifting along with the rod in one hand and a cool drink in the other, our guide Wescot repeating his mantra "Long Line – Big Fish.
After a short while my line goes slack, Wescot urges patience and not to strike yet, I've not fished for Tigers before and listen carefully. "Wait" he says, "until he takes line from the spool" there is a clicking noise and the clutch lets out line as the fish powers upriver. I can feel my prey on the end, racing away, trying to escape but I manage to turn him back toward the boat.
I catch my first sight, he's about a foot below the water, angry and determined to avoid capture. He leaps into the air trying to free himself and my heart jumps into my mouth praying its tactical manoeuvre fails.
After a strong fight lasting several minutes Wescot expertly scoops the piscine quarry into a large net and swings the prize aboard our boat.  Key to any fish's survival is speed, unhooking, some quick photos and returning it to the water as fast as possible. The African Tiger Fish, stunning, silver with black markings down its side with a wonderful bright orange tail and not to forget those 16 sharp teeth. I'd caught my first Tiger Fish and at 4.5kg a fine specimen. Time for a beer. [End of homework]
Mike also caught and amongst had the biggest catch of the weekend.
This slideshow requires JavaScript.
The campsite had some other residents in the ablutions block.
On Saturday jetted out onto the river again, meeting by coincidence one of Mikes friends Trevor. We were on the river at 7:00am and meeting up with Trevor by 7:30 he promptly handed Mike and I a beer..
Trevor and his family and friends were stopping at another lodge Breezers further up river and invited us to join them later. We were told about a large sand bank in the middle of the river that had been found a few miles upstream so we all hopped aboard boats and headed there before sunset.
We arrived in time to be treated to a magnificent spectacle, the light softly changing to an orange glow, animals calling as the sun sunk toward the horizon.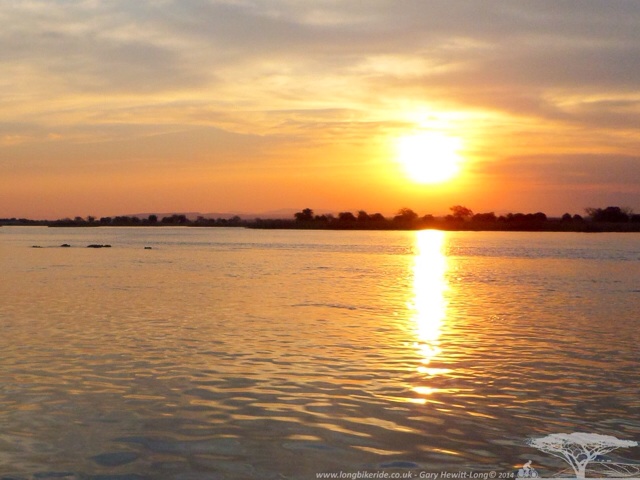 Standing in the middle of the Zambezi, wildlife all around, hippos grunting not far away, crocodiles hiding in the edges the large sandbank gave a good sized area to see any dangerous animals that may be approaching.
Drinks flowed as we soaked up the early evening atmosphere, an unforgettable experience.
Both children and adults frolicking in the warm waters of the Zambezi.
Inevitably the sun set, a truly magical place to be at the end of the day and a fantastic way to round of a weekend of fishing and fun.
Thank you to Mike, Jill, Ronan, Matthew, Roy and Alison for welcoming me into your home and such a great relaxing time.