Well, what to say… What a city.
So different to anywhere I've been before. I'd found out before coming about a tour company that show you round on a bike. The reviews online were good and I wasn't disappointed. I was the only person who turned up on their own bike all kitted out with cycle gloves etc.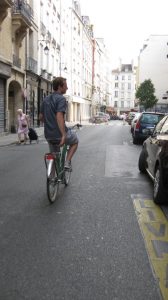 Our Guide Christian took us around Paris on a bike friendly route. So bike friendly we didn't come across that many cars. The guide was fantastic with a good knowledge and a passion for Paris' history. The tour looked good on the website, trip advisor backed that up and I can say for sure, it was well worth the fee. We covered about 8 miles seeing a lot more than I believe i'd have seen in a conventional walking or bus tour.
Started: 21 Aug 2012 08:17:23
Ride Time: 2:39:42
Stopped Time: 5:55:41
Distance: 20.95 miles
Overall I'm extremely impressed with Paris. Previously I've only passed through the outskirts, typically on
the way to a lake somewhere.
It's the little differences. We have the same in England that they have here, but it's just…just it's a little different!
Air quality seems better than London (other than I'm a restaurant sat next to someone smoking).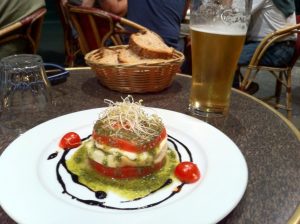 Architecture is phenomenal as are the open spaces.
The only thing I don't like is the cobbles!!