Arrived in Paris at just gone 17:00.
Very good days riding after a good nights sleep at Michael and Pascaline's house in Oissel.
Both Michael and Pascaline were perfect hosts. They welcomed me into their home, fed me, took me to see Rouen which I would not have otherwise had time for. We went to a viewpoint over the city which had an amazing view with the sun setting. We also went to the place where Joan of Arc was burnt and incarcerated (other way round). There was an Irish bar not far from the spot where Joan of Arc was burnt. So we had to stop there :-)After having a great breakfast prepared by Michael, I set off just after 8am. I knew at 10 miles there was going to be a big climb. It was clear to see in my cyclemeter app. At 7 miles I could see it looming up on my right. Once I'd started it, the gearing and forced slow pace made it not too bad (I find it hard not to race up hills…thanks Strava!).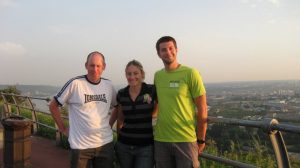 My intended route was nearly all D roads all the way. One of them being the D14. That one was a mistake, it was a dual carriageway with lots of fast lorries. I took the opportunity at the next turn off to make a route change and wound my way through several small villages. Going through one, it had a sign pointing the way for London to Paris, green avenue. I thought "this is good, I could follow this". I didn't see another sign for several miles.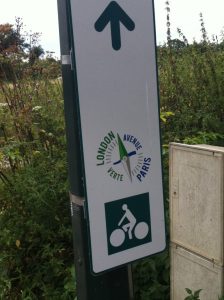 The second one I saw pointed up a dirt track. With fully loaded panniers I thought better of it and carried on with the near exclusive country roads I was on.
As I neared Paris and what's annoyingly recurring, even though I'm following a map on my iPhone.. I went wrong and ended up on another fast road. After some route modifications I found my way to the hotel, quite tired and in need of a shower and a shave.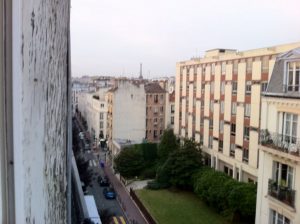 After a rest and a phone home, my mind turned to food. I'd burned off 2356 calories on the ride and needed to get back in credit. The plan (I know it's bad in more ways than one) was a McDonald's. However I decided I quickly nip over to the Eiffel tower. On the way I ended up at the top of the Champs Élysées. Best pedal forward I attempted to cycle down it, to quote a friend, more like wobbly bigguns than Bradley Wiggins. I've never seen traffic like it and I've decided…I don't like cobbles!!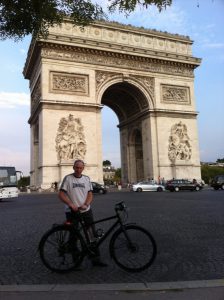 Instead of Macdonalds I plumped for a nice looking Restaurant called Le Poincare, it was out the way, busy with locals and reasonably priced. Sill can't understand how the waiter instantly knew I was English before I'd even had a chance to say Bonsoir!
Two days off for some sight seeing although I saw quite a bit tonight, then three days to get home.
Route: Leg 3 – Oissel to Paris
Activity: Cycle
Started: 20 Aug 2012 08:22:33
Ride Time: 6:14:54
Stopped Time: 2:39:16
Distance: 77.50 miles
Average Speed: 12.40 mph
Fastest Speed: 48.57 mph
Ascent: 3198 feet
Descent: 2988 feet
Calories: 2356