It's almost 10pm and we are sat in harvester in Middlewich, waiting for some vital calories to arrive. It's much later than we'd hoped to be sitting down for dinner.
Another extremely hot day saw both of consuming vast amounts of liquid to try and keep hydrated. Eight plus bidons each plus 4 cokes and still neither of us needed a wee all day!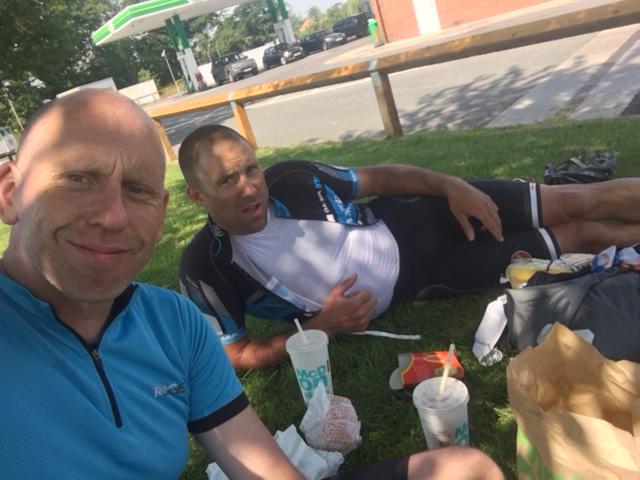 We left Bridgwater at 5:45 this morning. Riding toward Bristol the road was much flatter than the first day… to begin with at least. Suddenly the hills arrive and tired legs struggle to warm up and we soon run out of gears and crawl up the steeper climbs.
Riding between Tewkesbury and Worcester Jay pulled up, I rode up alongside and Jay said, "did you just see that guy?" I hadn't, when he came alongside, this elderly gentlemen Ritchie with a rucksack was walking from lands End to John O'Groats. He explained he'd set off 19 days earlier and was expecting the trip to take three months and he was raising money for a children's cancer hospice.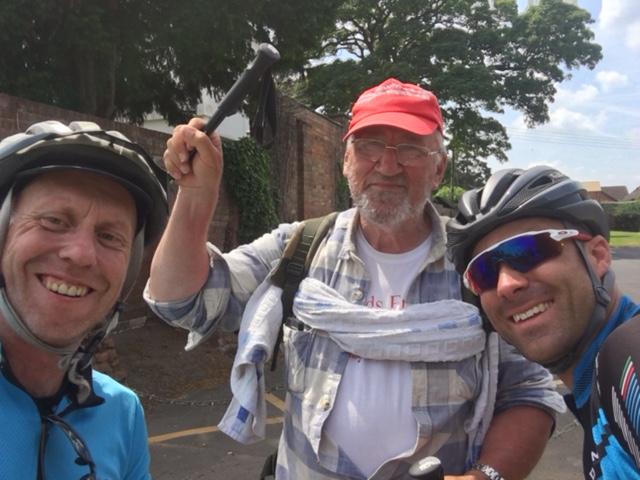 I've tried to find Ritchie's just giving page but can't seem to find it. Will look again later.
As we neared the end of the ride tiredness levels were high when cloud cover came over which caused a strong wind… a headwind for the last 22 miles.
About 6 miles from the end we were joined by a familiar face. Mark Cleverley had been following the live feed and rode us to the hotel. A friendly face was a welcome sight for both of us and helped the last few miles tick off nicely. Thanks for taking the time to see us Mark.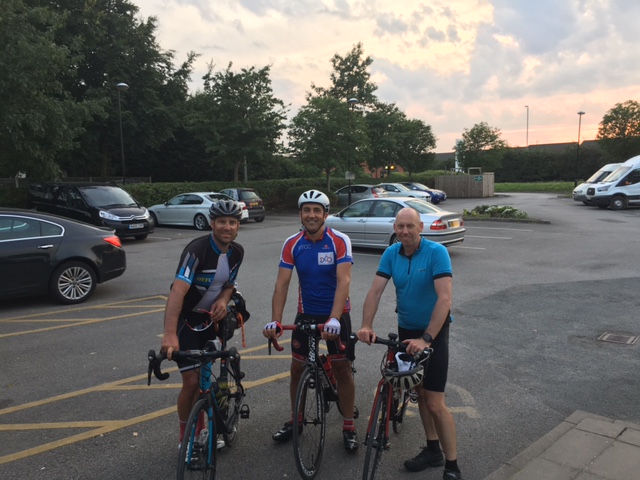 Ah.. dinners here and then bed!
Route: New Route
Activity: Cycle
Explorer Link: http://cyclemeter.com/9fb89c614db84b86/Cycle-20170619-0529
Import Link: http://share.abvio.com/9fb89c614db84b86/Cyclemeter-Cycle-20170619-0529.kml Started: 19 Jun 2017, 05:29:47
Ride Time: 11:45:57
Stopped Time: 3:53:17
Distance: 175.66 miles
Average Speed: 14.93 mph
Fastest Speed: 36.87 mph
Ascent: 3210 feet
Descent: 3065 feet
Calories: 5755
Average Heart Rate: 111 bpm
Maximum Heart Rate: 148 bpm
Bike: Genesis Equilibrium Disc
Kind Regards,
Gary Hewitt-Long